Device Doctor Portable
Use Device Doctor on Multiple Computers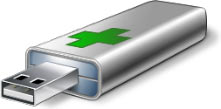 Device Doctor is also available in a portable flavour. For those not familiar with portable applications: these versions do not have an installer but are simply expanded from a ZIP archive to a removable drive and can be run without installation, just double-click on the EXE file.
This is not the same EXE as the one in our regular build: this one minimizes interactions with the Registry and the temporary file folders.
The portable version enables you to keep Device Doctor at your side anywhere you go and quickly scan any computer you use for driver updates without having to install anything; after you are finished and the drive is removed no "garbage" is left behind apart from the files you chose to download.
To download the portable version go to our Builds page and choose the portable build you need (U3-compatible version is also available):
Give us your feedback on the portable version in our forum.